Profile

Free Account
Created on 2010-09-01 19:59:33 (#557025), last updated 2011-04-20 (335 weeks ago)
2,960 comments received, 4 comments posted
1,968 Journal Entries, 84 Tags, 0 Memories, 1 Icon

About

Mini Bio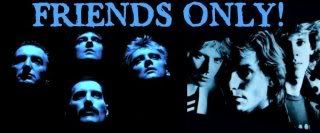 Unfortunately, I've had to go
Friends Only
for privacy issues...please message or comment to me to be added!
Before you ask, "Who are you?" make sure you ask yourself, "Do I really want to know?" I am a college graduate with a mind like a steel trap...rusty and illegal in 37 states. I also happen to be loopier than a bowl of Froot Loops. I admit it and am proud of it!
And contained in the next few pages, should you choose to click, are my ramblings across the virtual landscape...or as I like to call it, my "beautiful nonsense."
So, if you think you can make sense of me...come along with me on my magic carpet ride.
Current kicks: The Police, Queen, U2, collecting vinyl hardcore, volksmarching, Netflix movies, collecting music, reading up on Irish history, European league football, writing, and playing bass guitar.
**
**
The loverly mood theme featuring Garfield (aka Me) was created by
lunglock
by way of
mood_mania
. Thanks much!

Connect
adam clayton
,
andrea bocelli
,
andy summers
,
archiving
,
astronomy
,
bass guitar
,
bono
,
books
,
brian may
,
brobdingnagian bards
,
cartoons
,
celtic music
,
cheese
,
classic rock
, colts football,
concerts
,
csi: crime scene investigation
,
dancing
,
deadliest catch
,
doc savage
,
emerald rose
,
english premier league
,
fanfiction
,
festivals
,
fiction plane
,
filk music
,
firefly
,
football
,
freddie mercury
,
gaelic storm
,
ghost hunters
,
great big sea
,
heraldry
,
highlander
,
hiking
,
history
,
irish history
,
jeff dunham
,
john deacon
,
larry mullen
,
lj icons
,
mercedes lackey
,
michael nesmith
, movie festivals,
movies
, pacers basketball,
peter cincotti
,
photography
, playing tinwhistle,
politics
,
queen
,
reading
,
road trips
,
roger taylor
,
science fiction conventions
,
scrapbooking
,
serenity
,
singing
,
soccer
,
space above and beyond
,
space travel
,
stand-up comedy
,
stewart copeland
,
sting
,
taylor hicks
,
the edge
,
the monkees
,
the police
,
traveling
,
tudor history
,
u2
,
vinyl collecting
,
vinyl records
, volksmarching,
weather
,
world cup
,
writing

People
[View Entries]

Communities
[View entries]

Feeds
[View Entries]

Subscriptions (0)

Linking
To link to this user, copy this code:
On Dreamwidth:
Elsewhere: